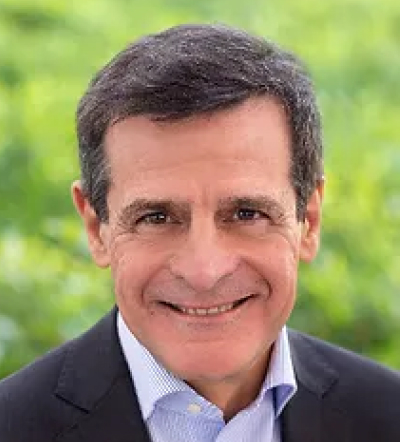 Andrea Rappagliosi is currently Senior Vice-President Public Affairs EMEA, Canada and LATAM at Edwards Lifesciences, after holding various international positions in the healthcare industry. In 2022, Andrea joined the European Patient Safety Foundation as a Board Member.
Edwards Lifesciences has supported the Fighting Fatigue Together campaign since the very beginning. Why is this campaign important to you?
Patient safety is our foremost priority, driven by our mission  of transforming patients life by  enhancing patient outcomes. Health worker safety and patient safety are intrinsically interconnected. Human factors, such as fatigue, poor working conditions and staff shortages, can culminate in diminished patient satisfaction, compromised care quality, medical errors, and substantial costs for both caregivers and healthcare systems. Hence, ensuring the well-being of healthcare workers is imperative to achieving safe and favourable patient outcomes. This can be only achieved by combining the fast adoption of technological innovation with the setting of innovative integrated process from diagnosis to treatment and cure, able to transform and elevate the standard of care by reducing the burden on healthcare workers and healthcare system at large.
The increasing workload and the shortage of staff that hit Europe over the past few years have led to an extremely high and worrying level of fatigue among healthcare workers in Europe. The largest German health insurance association AOK, has found among its insured members that, sickness related to burnout among carers caused an average of 28.2 days of incapacity for work per 100 AOK members – almost twice more than in other professions with 14.2 days[1]! In the Netherlands a recent study shows that with the ageing of the population and the rise in chronic disease, the demand in healthcare will keep growing and by 2040, 1 out of 4 workers will have to be a healthcare worker in order to meet the demand[2]. This is concerning when we know that 40% of medical doctors are close to retirement age in one third of countries in Europe[3]. As indicated by WHO Europe we are facing a ticking bomb: the healthcare workforce crisis.
The Fighting Fatigue Together campaign is critical to raise awareness of the state of fatigue among healthcare workers and its impact on patient safety and outcomes. This campaign is the first of its kind in Europe.
I strongly believe EUPSF can play a pivotal role in coordinating this pan-European effort to enhance patient safety and outcomes in Europe. It is crucial to have more industry members, hospital providers, patient safety stakeholders and policy makers joining forces and supporting the campaign. Only by working together can we tackle healthcare workers fatigue, improve patient safety and outcomes, and build the resilience of healthcare systems in Europe.
New technologies open new prospects for improving patient outcomes and safety. But, on the other hand, they require healthcare workers to adapt their knowledge and practices up to date and to be ever more responsive. What could be done to ensure that medical innovation actually achieves its objective and doesn't become just another source of fatigue?
In this current environment, all stakeholders have a role to play in improving patient safety and outcomes.
First, the industry has the responsibility to develop innovations at the service of patients, health professionals, but also supporting the efficiency and sustainability of our healthcare system. Innovation is no longer an option, but a necessity to meet the challenges of our health system and initiate a real transformation under the 4 Ps framework: for a more preventive, predictive, personalised, participatory and evidence-based medicine. 
Second, healthcare systems are not currently designed to embrace these innovations and exploit their full potential. They need to urgently prioritise and accelerate the adoption of these innovative technologies or processes which increase hospital efficiencies, optimise hospitals capacity and improve quality of care, therefore reducing the burden on healthcare workers. 
Third, patients should be better informed and empowered in their treatment journey. They should have the right to be consulted and participate in the decision making in all aspects of their treatment to ensure the best outcomes. Well informed and motivated patients can have a significant impact on their own safety.
But couldn't the industries, which are less caught up in the continuous flow of care to be provided, step in and make things easier for the hospitals?
The industry certainly has a role to play in developing innovations and designing processes leading to hospital efficiencies and resources optimisation. Innovations, such as digital technologies for predictive medicines based on AI-derived algorithms or technologies and devices which make minimally invasive procedures feasible, have showcased their potential to yield significant advantages for patients in terms of clinical outcomes and resource efficiency. Additionally, they can allow automating tasks, offer decision support, reduce hospital length of stay, ultimately reducing the pressure on healthcare systems.
Mr. Andrea Rappagliosi
Edwards Lifesciences (Switzerland)
WELLBEING AND SAFETY OF THE HEALTHCARE WORKERS
Panel discussion, "Fighting Fatigue Together – Collaborating across Europe"
---
[1] AOK-Studie: Erhöhtes Risiko für Burn-out bei Pflegekräften (aerztezeitung.de), 2022
[2] Gupta – Prevent the next wave – Why labour-saving innovations are needed in healthcare and how an innovative ecosystem enables progression
[3] Ticking timebomb: Without immediate action, health and care workforce gaps in the European Region could spell disaster (who.int)